Digital Health Innovation
Symphony's proven healthcare technology development experience, coupled with world-class HIT consulting services and access to capital, provides the ideal environment for a digital health innovation partnership to grow.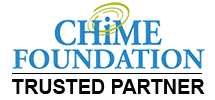 Symphony invests a significant percentage of its resources in product innovation and development. Symphony is a trusted innovation partner with nationally recognized health systems, and has a history of building and incubating cutting-edge technology solutions. Its primary areas of focus have been clinical analytics, population health and care management, comprehensive medication management, predictive, real-time decision support tools, telemedicine, and patient engagement tools.
Under this model Symphony leverages its partnerships with health systems to identify and co-develop innovative products and services that are market-viable. Symphony co-invests with its partners in building a commercially viable product in a short time frame, which offers a time-to-market advantage and minimizes risk. Symphony shares the risk and rewards of the venture with its clients.
An innovation partner with proven experience and speed to market success

Successful Product Developers
We have a proven history of developing next generation health software products with successful exits.

Healthcare System Relationships
We have lasting and successful consulting partnerships with leading healthcare systems.

Investors
SymphonyAlpha Ventures has grown out of successful exits and we have access to additional growth stage funding.

We Partner
We team up with investors and digital health companies to enable greater speed to market success.
Symphony's Health System Innovation Partnership Model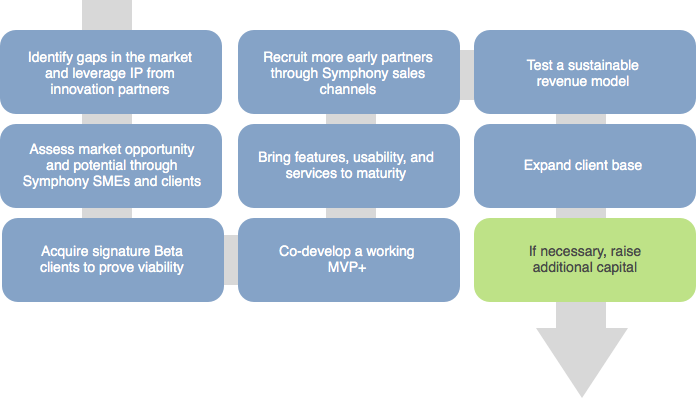 Symphony's Product Development Capabilities
Product Development Services
New Product Development – Proof of concept to design, development & deployment
Product Modernization – Porting to new, scalable technology platforms
Mobile Enablement – Native application development, cross-platform deployment: iOS, Android, Blackberry OS, and Windows
Web Services – Web API development
Product Enhancements – New features, functionality, and usability
Quality Assurance Services – Independent verification and validation (IV&VS), dedicated Quality Center of Excellence (QCoE)
Integration – Application integration using HL7 and DICOM standards
Product Support & Maintenance – Release & change management, incident management, help desk
Full Cycle Product Development
With your goals in mind we base our projects on a reliable fixed price and tie payments to well-defined milestones
Symphony Corporation has a long history of developing next-generation healthcare software applications that are data-driven, high-performance, content-rich and fully compliant with healthcare regulatory standards (HL7, CCOW, X12, NCPDP, HIPAA and ICD-10). Our highly competent product development teams bring strong healthcare domain knowledge, understanding of healthcare workflows and standards, and expertise in a range of new and legacy technologies.
Symphony's quality processes are assessed at Capability Maturity Model Integrated (CMMi) Level IV and are ISO 9001:2000 certified. Our quality methodologies and repeatable processes have evolved for more than 18 years to provide our clients with clear milestones, increasingly predictable deliverables, and more transparency into the development process. Symphony's processes are audited for 21 CFR Part 820 (QSR) standards and comply with Good Documentation Practices (GDP).
Our clients include healthcare delivery systems, health plans, technology vendors and startups. Symphony also has extensive experience in translating concepts to commercial products and has innovation partnerships with well-known health systems.
Extended Development Center
In the Extended Development Center (EDC) model Symphony on-boards and manages a group of talented technology professionals handpicked to meet its clients' specific business objectives. The team works as an extension of the onsite team and is tightly integrated into the development workflow and process. Symphony brings significant experience in building and managing teams of varying sizes.
Under this model Symphony dedicates a team of multi-disciplinary resources organized to meet clients' varying application development, testing, and maintenance needs. The resources are trained and managed by Symphony at its world-class development centers. The EDC model is best suited for long-term partnerships for significant ongoing development and maintenance work. Our clients retain the knowledge base and manage the EDC team's objectives and timelines. Symphony offers a fixed-price or cost-plus pricing model. Our success comes from our matured processes that offer predictability and transparency. Symphony can also operate under the build-operate-transfer (BOT) model.
Quality Center of Excellence
Designed for healthcare organizations and ISVs with aggressive release roadmaps, the QCoE engagement model provides the ideal solution to increase the quality of deliverables as well as reduce the total cost of quality assurance. Symphony offers high-quality, independent, cost-effective and comprehensive testing services.
In this model, Symphony dedicates a core team of testing personnel that is involved in all stages of the SDLC. The size of the team can be modified to meet workload demand. The team deploys Symphony's mature testing and quality assurance methodology or adopts the client's best practices. Clients typically engage Symphony's services using a dedicated team under a fixed-price model.
Our Recent Product Development Projects
HIGHFIVE RX – COMPREHENSIVE MEDICATION MANAGEMENT
Symphony developed a SaaS-based comprehensive medication management system for HighFive Rx, which includes medication reconciliation and workflow optimization by aggregating medication information from multiple provider sources—both ambulatory and inpatient clinical data. The system then identifies and scores at-risk patients and generates a single, continuous medication narrative and care plan. Symphony continues to enhance the platform and helps HighFive Rx with data loading, data management and EMR integration.
INTELLIVISIT – TELEMEDICINE AND MOBILE HEALTHCARE APPLICATION
Intellivisit offers a "digital front door" to primary healthcare—connecting people to the right care and enabling better-informed decision making for both clinicians and patients. As a personal on-demand doctor, Intellivisit is better, faster, and cheaper than going to see the doctor. Symphony built the MVP+ and continues to build and enhance features for this next-generation telehealth product.
SYMPHONYCARE NAVIGATE – POPULATION HEALTH MANAGEMENT AND ANALYTICS PLATFORM
Symphony developed a state-of-the-art population health management platform —"Care Navigator"— for holistic care management to assist health organizations excel in the new payment model environment. This platform identifies high-risk patients and coordinates care for those cases while integrating the care management workflow across care teams.
LIAZON – PRIVATE HEALTH INSURANCE EXCHANGE AND MARKETPLACE
Symphony developed the first-generation Health Insurance Exchange solution and insurance marketplace for Liazon Corporation. The solution provides personalized tools and decision support to assist individuals in selecting employer-funded benefits. Liazon was acquired by Towers Watson in November 2013.
Interested in discussing a digital healthcare innovation partnership?