Digital Healthcare Innovation
Symphony's best practice consulting experience coupled with world class technology services provides the ideal environment for a digital healthcare innovation partnership to grow.
The Symphony Labs Digital Healthcare Innovation Model
Symphony invests a significant percentage of its resources in product innovation and development. Symphony has been a trusted innovation partner with nationally recognized health systems, and has a history of building and incubating cutting-edge technology solutions. Its primary areas of focus have been applied clinical analytics, population health and care management, comprehensive medication management, predictive, real-time decision support tools, telemedicine, and patient engagement tools.
Under this model Symphony leverages its partnership with health systems to identify and co-develop innovative products and services that are market-viable. Symphony co-invests with its partners in building a commercially viable product in a short time frame, which offers a time-to-market advantage and minimizes risk. Symphony shares the risk and rewards of the venture with its clients.

Mature product development processes

Working relationships with leading healthcare organizations

Seed funding and access to growth-stage partners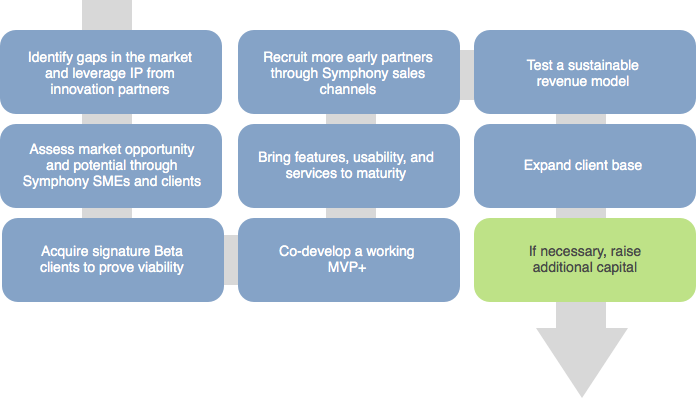 Recent Symphony Labs Projects
COMPREHENSIVE MEDICATION MANAGEMENT
Symphony developed a SaaS-based comprehensive medication management systems for HighFiveRx, which includes medication reconciliation and workflow optimization by aggregating medication information from multiple provider sources—both ambulatory and inpatient clinical data. The system then identifies and scores at-risk patients and generates a single, continuous medication narrative and care plan. Symphony continues to enhance the platform and helps HighFive with data loading, data management and EMR integration.
TELEMEDICINE AND MOBILE HEALTHCARE APPLICATION
Intellivisit offers a "digital front door" to primary healthcare—connecting people to the right care and enabling better-informed decision making for both clinicians and patients. As your personal on-demand doctor, IntellIvist is better, faster, and cheaper than going to see the doctor. Symphony built the MVP+ and continues to build and enhance features for this next-generation telehealth product.
POPULATION HEALTH MANAGEMENT AND ANALYTICS PLATFORM
Symphony developed a state-of-the-art population health management platform —"Care Navigator"— for holistic care management to assist health organizations excel in the new payment model environment. This platform identifies high-risk patients and coordinates care for those cases while integrating the care management workflow across care teams.
PRIVATE HEALTH INSURANCE EXCHANGE AND MARKETPLACE
Symphony developed the first-generation Health Insurance Exchange solution and insurance marketplace for Liazon Corporation. The solution provides personalized tools and decision support to assist individuals in selecting employer-funded benefits. Liazon was acquired by Towers Watson in Nov. 2013.
INTERESTED IN BECOMING A SYMPHONY LABS INNOVATION PARTNER?